Casino-Free Milford
Mark Your Calendar! Please plan to join Casino-Free Milford on MONDAY, JUNE 3rd at Milford High School Auditorium when Foxwoods will present its detailed plans to the Board of Selectmen. Stand with us in solidarity outside to hold signs anytime between 4:00 and 7:00 PM. The meeting starts at 7:00 PM in the auditorium. Wear RED to show your opposition to the development of a destination resort casino in Milford. Bring your friends and neighbors! We look forward to seeing you!
---


The National Gambling Impact Study Commission Final Report[1], commissioned by the US government, contained this telling observation by Ledyard Planning Director William R. Haase.

After talking about the "tremendous increases in traffic" and the "increased policing", "deteriorating infrastructure", "increased emergency services cost".... the report finished on a high note:

The effects of a casino like the one being proposed for Middleboro can have serious effects for the area within a 50 mile radius[2]. Towns closest to us - Bridgewater, Rayhnam, Taunton, Plymouth, Carver, Wareham, and others can expect the same kind of problems that Middeboro will have - in decreasing severity depending on distance.

These effects are covered in our research section. If you want to help, fill out a regional petition and return to PO Box 1441, Middleboro, MA 02346
Regional Petition - PDF | Word


When you've waded through enough dry facts and statistics, this article - What happens in Middleboro ... won't stay in Middleboro puts a human face on the issue of surrounding towns. It was written by a resident of one of the nearby towns - Bridgewater.


[1] National Gambling Impact Study Commission Final Report
[2] Grinols and Mustard, "Business Profitability vs. Social Profitability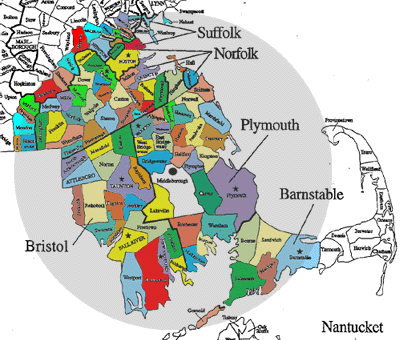 This image shows the towns falling within 35 miles of the proposed casino site. Is your town one of them?


Your representatives need to hear from you.
Links to your Town Government, Senator and State Representative(s) are provided below.


Bridgewater
Board of Selectmen
Senator Marc R. Pacheco
Representative David L. Flynn


Brockton
Mayor's Office
Senator Robert S. Creedon, Jr.
Representative Geraldine Creedon:- ward one (precincts A and C), ward two (precinct A) and ward seven (all precincts)
Representative Thomas P. Kennedy:- ward one (precincts B and D), ward two (precincts B, C and D), ward three (all precincts) and ward four (precincts A and D), ward five (precinct A)
Representative Christine E. Canavan:- ward four (precincts B andC), ward 5 (precincts B, C and D) and ward six (all precincts)


Carver
Board of Selectmen
Senator Marc R. Pacheco
Representative Susan Williams Gifford

Berkley
Senator Marc R. Pacheco
Representative David B. Sullivan

Dighton
Board of Selectmen
Senator Marc R. Pacheco
Representative Patricia A. Haddad

Duxbury
Board of Selectmen
Senator Robert L. Hedlund
Representative Daniel K. Webster :-precincts two to five
Representative Thomas J. Calter :-precincts one and six

East Bridgewater
Board of Selectmen
Senator Robert S. Creedon, Jr. :- precincts one to three
Senator Brian A. Joyce. :- precinct four
Representative Allen J. McCarthy

Easton
Board of Selectmen
Senator Robert S. Creedon, Jr.:- precincts one and two
Senator Brian A. Joyce :- precincts three to six
Representative Geraldine Creedon:- precincts one, two, four and five
Representative David L. Flynn:- precinct six
Representative Christine E. Canavan:- precinct three

Freetown
Board of Selectmen
Senator Joan M. Menard
Representative David B. Sullivan:- precinct one
Representative John F. Quinn:- precinct two
Representative Stephen R. Canessa:- precinct three

Halifax
Board of Selectmen
Senator Robert S. Creedon, Jr..
Representative Daniel K. Webster :- precinct two
Representative Thomas J. Calter :- precinct one

Hanover
Board of Selectmen
Senator Robert S. Creedon, Jr..
Representative Robert J. Nyman

Hanson
Board of Selectmen
Senator Robert S. Creedon. Jr.
Representative Daniel K. Webster

Kingston
Board of Selectmen
Senator Therese Murray
Representative Thomas J. Calter

Lakeville
Board of Selectmen
Senator Joan M. Menard
Representative John F. Quinn:- precinct one
Representative Stephen R. Canessa:- precincts two and three

Marshfield
Board of Selectmen
Senator Robert L. Hedlund
Representative Frank M. Hynes

Norwell
Board of Selectmen
Senator Robert L. Hedlund
Representative Robert J. Nyman

Pembroke
Board of Selectmen
Senator Therese Murray
Representative Daniel K. Webster

Plymouth
Board of Selectmen
Senator Therese Murray
Representative Vinny M. deMacedo:- precincts two through ten, twelve, and fourteen
Representative Thomas J. Calter:- precincts one, eleven and thirteen

Plympton
Board of Selectmen
Senator Therese Murray
Representative Thomas J. Calter

Raynham
Board of Selectmen
Senator Marc R. Pacheco
Representative David L. Flynn

Rochester
Board of Selectmen
Senator Joan M.Menard
Representative William M. Straus

Rockland
Board of Selectmen
Senator Michael W. Morrissey
Representative Robert J. Nyman

Taunton
Mayor's Office
Senator Marc R. Pacheco
Representative James H. Fagan:- ward one (precinct B), ward two (all precincts), ward three (all precincts), ward five (all precincts), ward seven (all precincts) and ward eight (all precincts)
Representative Patricia A. Haddad:- ward one (precinct A), ward four (precinct B) and ward six (all precincts)
Representative Stephen R. Canessa:- ward four (precinct A)

Wareham
Board of Selectmen
Senator Marc R. Pacheco
Representative Susan Williams Gifford

West Bridgewater
Board of Selectmen
Senator Brian A. Joyce
Representative Christine E. Canavan

Whitman
Board of Selectmen
Senator Robert S. Creedon, Jr..
Representative Allen J. McCarthy